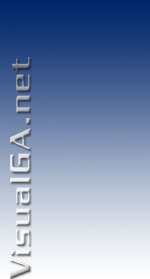 An Innovative Solution to Administer General Assistance
Version 6.0+ Update Change Log

Note: If your last VisualGA update was prior to the date listed for a given change below, you will not have that change. VisualGA will automatically download new updates when they are available.
2015 Updates
2014 Updates
2013 Updates
2012 Updates
2011 Updates
1/19/2016 (6.49)

Added new concept of "Date Filters" for reports, and implemented this feature for the System Statistics Report. Originally, the System Statistics Report strictly filtered by Notice of Decision date. With the new date filter option for the System Statistics Report, you can now filter by Notice of Decision Date or Grant Date with the latter filtering by any grant issued that falls within the date range. Additionally, filtering on Grant Date will display unique SSN's (for GA/EA and AA where applicable) and a total # of Grants issued for each category. This means that for the Zip Code section, if there was one client for zip code 60101 that had 5 grants, this would count as "1" for total Clients and "5" for total Grants. This report snippet shows an example.
Modified rendering logic on all Administration Console screens. Users with incompatible Windows display settings (font sizes set to greater than 100% - see our

System Requirements

page about using the correct Windows display settings) were reporting that screens within the Administration Console were being cut off. The new rendering enhancement will now display the Administration Console screens in their entirety.
Increased backup timeout from 15 minutes to 30 minutes to prevent database backup timeouts. This is just to ensure that backups are successfully created on a daily basis.
Modified EA Application Form so that when printed from within the Emergency Assistance module, any Assistance Unit member other than the applicant will print in the Assistance Unit section. When this form is printed from within the Intake module or from the main VisualGA screen, 5 blank lines will print in the Assistance Unit section.
Fixed issue with Additional Assistance report when grouping by Client without SSN.
Fixed issue with first zip code selected automatically when moving off of city when there are multiple zip codes assigned to a single city.
Performance increased for 'Print Bulk Disbursements' when retrieving/printing Disbursements.
Added auto-database service restart attempt (for VGA servers) if database service is not running..
Added option to print Job Search "Due Date" as well as customizing the footer Job Search Form. You can enable both of these options in the Administrative Console under Reports, Forms & Letters... Form Customization
Also added the ability for a caseworker to set up a Job Training Program for clients not yet approved for General Assistance.
Added the Check Detail Report (under Accounting Reports) which will show details (vendor, client, date issued, date paid, amount issued, amount paid, and more) for all disbursements, work program expenses, additional assistance grants, and administrative payments. There is an additional filter for this report that allows you to filter by check number.
Added email address as a field for Disbursement Vendors
Added 'Other' Description field for Emergency Assistance Client Needs. When printing the Notice of Decision for EA, any value entered for 'Other' Description will print on this form under the 'Other' need field.
Fixed issue when withdrawing a Gift Card and subsequently deleting the Disbursement/AA Grant the Gift Card was assigned to.