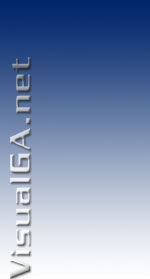 An Innovative Solution to Administer General Assistance
VisualGA 2014 Updates

1/17/2014 (6.12)
Added new spellchecker which eliminates issue with narratives printing only one line.
Added ability to limit search results with global search and adding new applications for SSN's that have an existing Application. This option (set in your User Profile) will limit the global search to 1 result for each

SSN and Application Type

. The result will be the most recent for each SSN/Application Type. For example, if John Doe has 2 GA Applications and you search for the word "Doe", this will bring up the most recent GA Application for John Doe. Note that if John Doe had EA/AA Applications, the most recent of each would be returned in the search results. If this option is not selected, both GA Applications would appear in the search results as well as all EA/AA Applications. When selected, this option can quickly help you find what you are searching for.
Added Birth Date to Client Activity by Status Report and Client Snapshot Report
Added ability to Print Donor Envelopes (from Print menu) in Additional Assistance Grants
Added AA Quick Grants which allows you to quickly issue Additional Assistance Grants for an existing AA client without having to open their Application to issue a grant. More can be found here.
Added Landlord form to Additional Assistance
Added option to print 2 vendors per 1099-MISC form. Previously this only printed a single vendor twice per form.
Search clients by Client ID (unique VisualGA identifier assigned to each SSN in the system)
Added ability to print Client ID Cards for Additional Assistance Clients. The ID Cards contain two optional lines at the top (which normally contain the township name and the township address), the client name and address, and a barcode which contains either the Client ID or the Case # if the client does not have a Social Security Number. Currently, the ID Cards function as a quick way to process an Additional Assistance Quick Grant. In the future, this will be expanded to provide enhanced automation from within VisualGA.

For more information on what is required and how to print Client ID Cards, click here. To set up and load your DYMO LabelWriter 450 with labels, click here.

Please note that we do not provide technical support for DYMO LabelWriter 450 printer beyond the initial setup. If you have hardware or software problems with the printer, you will need to contact your network support technician.
Added Client ID Card printer option in user profile.
Added concept of Optional Fields. This allows you to selectively choose to use the default implementation of a field, or instead choose another field that will take its place. For example, you could replace IDES Registration # with Client Vendor ID. This will effectively remove the IDES Registration # field from the screen and replace it with the Client Vendor ID. Currently, the Client Vendor ID is used when exporting disbursements that go directly do the client.
Changed "Print Vendor Envelopes" (under Tools & Settings) to "Print Envelopes" and allows you to print envelopes for Vendors, Medical Providers, Agencies, and Work Program Sponsors.
Added an option under the Work Program Module for both Job Training and Workfare to print Sponsor envelopes.
Added ability to print a 3rd header line for Client ID Cards
Added ability to optionally print Vendor Disbursement Summary Report & Vendor Disbursement Summary Voucher for Bulk Printing Options. This option can be set in the Administration Console under Disbursements, Bulk Disbursement Options.
Added Client Signature by Caseworker Report option for 'Print Bulk Disbursements'. This is for townships that issue checks from VisualGA directly to the client. This report is essentially a "sign-off" sheet for each client that received a check, by caseworker.
Added ability to Print Bulk General Assistance Forms (under Tools & Settings). This will allow you to print the selected General Assistance Form for all active General Assistance Clients. Currently, the Job Search Requirements and Job Search form are the only two that print, but if there are others you would like to see, let us know.
Added option to print Supervisor Signature on checks (if Supervisor Signature is present). Currently only Check Style F is supported, but if you print checks with VisualGA and would like your Check Style to print the Supervisor Signature, contact us for assistance. This option can be found in the Administration Console under Disbursements -> Checks.
Modified Client Photos to support scanned drivers licenses or ID cards provided they are in jpg format. Your scanner needs to be able to generate jpg files in order for this feature to be utilized. Contact your network support representative for more information regarding your scanner.
Added internal redundancy check for Visual in-progress updating
Added ability to set an Additional Assistance Program to be eligible for Pickup at a later date. If you have a program in which the client picks up goods/services for an Additional Assistance Program at a later date, this new feature could benefit you.
Added Pickup Date and Receive Date to Additional Assistance Grants. If an Additional Assistance Program is eligible for pickup, these two fields will be enabled on the Additional Assistance Grant screen.
Coming this summer: Additional Assistance Client Pickup Form, Client Pickup & Received Reports, and Quick Grant Client Receive module. These 3 features will further enhance the Pickup & Receive features listed above.
Added SSA-3288 (Consent to Release Information) to the DHS/SSA Forms menu option (under Forms) for General Assistance Clients. This will merge client data into the SSA-3288 form similar to how the DHS Redetermination form works currently in VisualGA.
Added Custom Client Letters module which enables you to generate customized mail merge letters directed to your clients. See this video for a full rundown.
Added ability to print Work Program Expense disbursing orders, payment vouchers, and vendor checks from the Print Bulk Disbursements screen.
Added merge field CompanyContactName for Donor Family Member/Thank You letters and Donation Thank you letters. This field will merge the first and last name for Companies/Organizations only in the event you wish to include the contact name in a letter for a Company/Organization.
Added enhancements for managing attachment backups for VisualGA Townships that subscribe to our backup plan.
Added last 4 digit SSN search due to a recent trend of DHS providing only the last 4 digits of the SSN. This has been added to the global search, and individual IA/GA/EA/AA and Schedule Searches. Simply enter the last 4 digits of the client SSN you are looking for in the global search box OR after the second dash in the Application Filter SSN search box (i.e. - -1234).