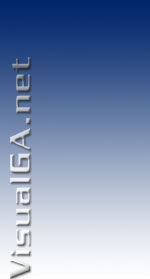 An Innovative Solution to Administer General Assistance
The Technology behind VisualGA.Net

VisualGA.net is designed with Microsoft™ Visual Studio. The new comprehensive development tool from Microsoft, designed for creating the next generation of applications.

The VisualGA application was written from the ground up with Microsoft's Visual C# (pronounced C-Sharp) programming language.

Visual C# allows us to provide the user with an intuitive user interface and the ability to automate most redundant tasks when administrating General Assistance.

VisualGA utilizes the power of Microsoft's™ SQL Express edition, a scaled-down version of Microsoft's SQL Server. Click here for more information on SQL Express editions.
May we help you?
Questions about VisualGA? Check out the VisualGA.net Media Library to access our demo videos. If you would like additional assistance, please email us or give us a call at 847-586-9222.