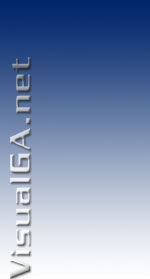 An Innovative Solution to Administer General Assistance
VisualGA 2017 Updates

5/04/2017 (6.58)
Added option to print Job Search "Due Date" as well as customizing the footer Job Search Form. You can enable both of these options in the Administrative Console under Reports, Forms & Letters... Form Customization
Also added the ability for a caseworker to set up a Job Training Program for clients not yet approved for General Assistance.
Added the Check Detail Report (under Accounting Reports) which will show details (vendor, client, date issued, date paid, amount issued, amount paid, and more) for all disbursements, work program expenses, additional assistance grants, and administrative payments. There is an additional filter for this report that allows you to filter by check number.
Added email address as a field for Disbursement Vendors
Added 'Other' Description field for Emergency Assistance Client Needs. When printing the Notice of Decision for EA, any value entered for 'Other' Description will print on this form under the 'Other' need field.
Fixed issue when withdrawing a Gift Card and subsequently deleting the Disbursement/AA Grant the Gift Card was assigned to.