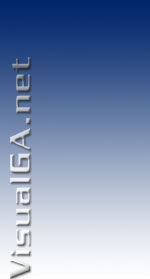 An Innovative Solution to Administer General Assistance
VisualGA 2013 Updates

1/11/2013 (5.80)
Removed requirement for Donors to have a first and last name if the company/organization field has been filled out.
Added General Assistance Duration report which is a detailed report which displays the time clients have spent on GA.
1/18/2013 (5.81)
Added ability to track Thank You letters sent for Donors. You can find this under Tools & Settings, Donations, and simply check the box under "Letter Sent" if you have sent a Thank You letter to this donor.
Added ability to track whether a W9 has been received from a Shelter Vendor. Within each Vendor is a checkbox that states "W9 Received". If this box is not checked and an attempt is made to issue a Disbursement to this Vendor (in GA/EA), a message will be displayed informing the user the W9 has not been received. Read more about this option here.
Added Vendor Outstanding W9 Report to show Shelter Vendors (landlords) who have an outstanding W9 for Active, In-Process, or Inquiry Clients (GA/EA). This report can be found under Reports... Accounting Reports.

2/25/2013 (5.82)
Added ability to customize probation locations (Tools & Settings, Manage Vendors, Providers & Categories, Probation Locations

3/10/2013 (5.83)
Added Client Service Report (Caseload/Statistical Reports). This report will display Clients who were serviced either by receiving a GA/EA/AA Grant, GA/EA/AA Benefits (Disbursements), GA Medical Benefits, or any other Service/Activity via a selected Narrative Category.

6/20/2013 (5.84)
Added a GA Application Form, which can be printed from within a General Assistance Client under "Forms", "General Assistance".
The Global Search has been enhanced to search for Home Phone, Alternate (Mobile) Phone, and Address. In total you can now search by SSN, Last Name, Last/First (separate Last/First with a comma), Case #, Home/Alternate Phone, and Address
Global Search results screen and the Clone Case screen have been condensed to show only one record per case. Previously, if there was a "hit" for members of the same application, they would display in separate records. Now, the screen will show as it does on the main screen, with the display of the primary assistance unit member (unless RPY/PPY). Additionally, the other members of the assistance unit as well as any non-assistance unit members (specified with NAU) will display in the line below the primary assistance unit member.
SSI has now been expanded to include the following fields: SSI Application
Date, SSI Reconsideration Date, SSI Admin Law Judge Hearing Date, SSI Approved
Date, SSI Money received, and is the SSI Application for SSD. You can access these additional fields under the "General Information" screen and clicking the "SSI Details" button which will display the SSI Details form. This enhancement will allow you to more closely track the entire SSI Application Process.
The SSI Column on the main GA screen has been enhanced to include the additional SSI fields. You can read more about it here.
The SSI Pending Report has been enhanced to show the additional SSI Fields as well as the average time a Client is pending SSI (from SSI Application Date to SSI Approved Date). Also, only the last Application for a client displays per SSN. This will eliminate duplicate entries on this report.
Added Fax for Vendors and Medical Providers. Consent to Release of Information, Referral Form, and Income Affidavit will print phone/fax if it exists for a Vendor/Provider
Added "W9 Received" box for Medical Providers (works the same as for Disbursement Vendors) and added Outstanding Medical Provider W9 report located in Accounting Reports. A prompt is displayed to a user if a Vendor/Provider is selected for a Disbursement but does not have a "W9 Received". This can be controlled in the Admin Section under "Disbursements", "Vendor/Provider Options".
Added Fax for Vendors and Medical Providers. Consent to Release of Information Form, Referral Form, and Income Affidavit will print phone/fax if it exists for a Vendor/Provider
Added Donations Report (accessible inside donations screen)
Prompt when duplicate EIN/FIN/SSN exist for Vendors & Medical Providers when adding/modifying a Vendor/Medical Provider.
Disbursement Vendors and Medical Providers can be exported within Tools & Settings, "Manage Vendors, Providers & Categories".
Inactive Application Data Items (Tools & Settings, "Manage Vendors, Providers & Categories") display as light gray.
Multi-Sponsor/Activity Work Program Report now displays all Sponsors/Activities if there are more than 1 per day. Additionally, the Work Program Assignment form has been tightened up to display a 5 week Assignment on a single page.
Emergency Assistance now includes the Referral Form found previously only in GA.
For reports that display phone, if no home phone number exists, the alternate phone (usually the mobile phone) will display instead.
Medical Provider ID now displays in Bulk Disbursements (Close, Print, or Bulk Vouchers) making it easier to distinguish Medical Providers with the same name.
Added ability to turn off default Letter Header on all Thank You Letters generated. This would allow you to use your Townships letterhead instead and specifying a top margin where your Township letterhead ends. This can be found in the Admin Console under "Reports & Forms".

Added ability to view other users' schedule when clicking "Schedule" from within a Scheduled Task, provided the user has permissions to do so.

Added ability to print Appointment Form when scheduling the next appointment upon issuing a grant. You can default this setting within your profile under "Print Post-Grant Appointment Form" under "System Preferences".
Added ability to selectively 'Clone' an application by choosing which items you want to clone: Income & Assets, Public Assistance, Employment History, Parole & Probation, Military History, Medical Insurance Benefits, Non-Assistance Unit Members, and Previous Addresses.
Enhanced Application Search box (box that allows you to quickly search within Intake, GA, EA, and AA with the "Go" and "Clear" buttons) to allow Last Name, Last Name/First Name, SSN, Case #, Phone, or Address.

Added framework for Township Billing module. This will allow you to bill townships for your labor servicing their clients. This option is available in the Admin Console under Townships/Users.
Added Billable Hours for Narratives (if Township Billing module is enabled)
Added ability to print your custom reports from the main screen, intake, and as part of the Application/Inquiry Checklist. Custom reports can be added to VisualGA at a rate of $150 per hour.

Added the Township Billing module, which allows you to bill Townships for labor incurred and other services performed for their township. You can find a complete description as to how this works by going to the Help menu and opening the VisualGA Help (Open VisualGA Help Topics). Under Administration is an option for "Township Billing". A sample of the report can be found here.
We have discovered the problem with the truncated text appearing randomly on certain reports, specifically the Narratives report. This is due to the word replacer in the narratives when you click the "ABC" button on the toolbar for spellcheck. The dialog that appears to suggest replacement words triggers the report problem. We will have a fix shortly, but it requires the .NET Framework 4.0 and some of you may not be on this version yet. 5.92 checks for the existence of the .NET Framework 4.0 and alerts you if you do not have it upon launching VisualGA. If you do not see the alert, that means you are compliant with the .NET 4.0 Framework.
Added the Client Military Service Report, which can be found under "Caseload/Statistical Reports". This report will show clients that have Military Service, and can be filtered by application date and/or status.
Sends email notification to NJS if your VisualGA Server is not running the .NET Framework.


12/6/2013 (6.10)
Added Administrative Payments which allows you to print non-client checks such as Office Expense items, Gift Card payments, Bus Token payments, etc. The checks that are printed from this module (located under the Administration menu) will display on the Check Register Report and General Ledger Code Summary report within the Accounting Reports section. Only Administrators can access this module.
Added ability to print narratives from the "View Narratives" tool found under "Tools & Settings"
Added township defined Custom Fields as well as Assistance Reason to Intake Applications. If an Intake Application is cloned into a new GA/EA/AA Application, the Custom Fields as well as the Assistance Reason (if GA/EA) are copied as well.