Update 7.18 Wish List Changes
Due to conflicts with the Assistance Unit 'Notes' field being used for reasons other than a Wish List (including privacy), we have created another field specifically named 'Wish List' which you can enable in the Admin Console. Read more on that here. This enables you to keep Assistance Unit notes separate from their Wish List and optionally reset all Wish Lists at the end of the Additional Assistance Program.
The Family Sponsored Donor Letters will contain the prefix "Wish List:" followed by the Assistance Unit member Wish List if the 'Enable Wish List Field' has been set in the Admin Console. If you have customized the Family Sponsored Donor Letter then your letter will be unaffected. If you have enabled the Wish List Field, any secondary Assistance Unit Member which does not have a Wish List will be excluded from the letter. If you elect not to enable the Wish List Field, nothing will change except that "Notes:" will not print if there aren't any Notes present for that Assistance Unit member - instead the line will be blank: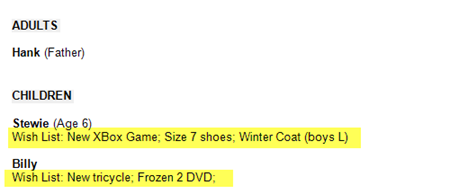 The Additional Assistance report named Additional Assistance Client Family Member Report will display the Assistance Unit Member 'Wish List' if the 'Enable Wish List Field' has been set, otherwise it will continue to display the 'Notes'. There has been a new filter added which allows you to exclude (filter out) Secondary Assistance Unit Members which do not have a Wish List (or Notes if you have not enabled the Wish List field).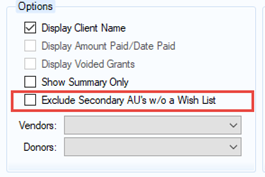 The Caseload/Statistical Report named Client Family Member (Children) Report is left unchanged. That is, it displays the contents of the Assistance Unit Member Notes field whether or not it contains any content.