VisualGA Update 7.18 Write Up
Based on your ideas and suggestions, the following enhancements have been added to VisualGA. We always appreciate your feedback, so feel free to suggest new features you would like to see!
Export Applications
You can now export GA, EA, and AA applications from each module on the main screen: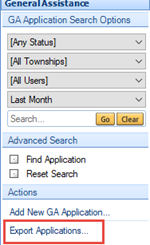 The export will contain basic information for each client including phone numbers, address, and last grant date. All clients which are currently displayed on the screen will be included in the export which means you can narrow down your clientele by choosing more restrictive filters (such as only including Active Clients). You can export as CSV or tab/pipe delimited - all of which will open in Microsoft Excel.
Export Donors
You can now export Donors from the Tools Menu, Manage Vendors, Providers & Categories just like Disbursement Vendors and Medical Providers.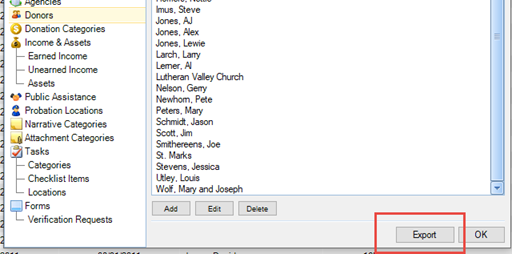 Note for those who are currently exporting disbursements that there is a new CSV option - 'double quote delimited':
The first CSV option does what it did previously which is to delimit (surround) each field with double quotes only when the data contained a comma. The problem with this is that is can cause problems for some programs that import the data due to the inconsistent nature of the double quotes appearing. The CSV second option (double quote delimited) delimits (surrounds) every field with double quotes, regardless if the data contains a comma.
Additional Assistance Program Eligibility Period in Weeks
This has been one of the more popular requests - to set AA Program Eligibility in Weeks. If you have an AA Program which your clients receive more than once per month, you can now choose the number of weeks the eligibility period runs. For example, if you allow access to the Food Pantry once per week, select 1 for the eligibility period and choose 'Weeks' as shown in the image below. This means that if a client receives a Food Pantry grant on Monday, they are eligible for a Food Pantry grant the following Monday.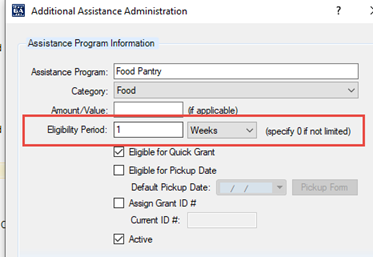 Copy/Move Current Address to Previous Address
For GA, EA, and AA, you can now copy or move (copy + clear) the current address to a previous address field. 'Copy' will simply take the existing Address 1/2/3 and City/State/Zip and insert it as Previous Address. 'Move' will do the same but will also remove the current Address and City/Zip. Note the vertical ellipsis button highlighted below.

Multiple Quick Stats
For those unfamiliar with Quick Stats, they are a way to quickly record user activity without having to enter a client. We liken this to having a clipboard with various caseworker activities that are incremented when an activity occurs. This new enhancement allows you to select multiple occurrences of a particular activity (Narrative Category). For example, say you take a phone call from a client but before you can record a Quick Stat in VisualGA, two more clients call. Instead of having to add 3 individual Quick Stats you can now simply select '3' (as shown below) from the pulldown list. Note that this is a per-user feature which defaults to 1 Quick Stat but allows up to 9 per category.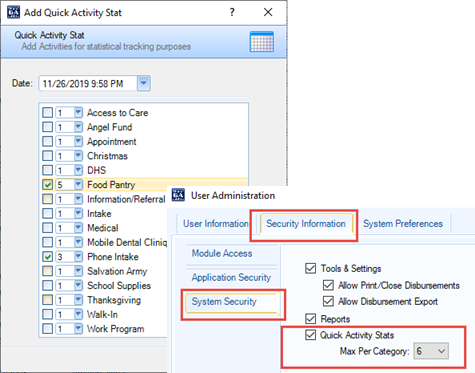 Deleted Application Tracking
Starting in 7.18, all deleted applications are tracked and kept for as long as the deleted application has event logs (determined by your individual township setting in the Admin Console). You can see Deleted Applications, and their event trail, from within the User Audit Report within Caseload/Statistical Reports.
Import Assistance Unit/Non-Assistance Unit Member
This is a feature that has been in place for quite some time, but not many of you know about it since was in a not so obvious place (the toolbar in the AU/Non-AU edit window). It is now located in a vertical menu at the top of the Assistance Unit and Non-Assistance Unit tables just like Copy/Move address: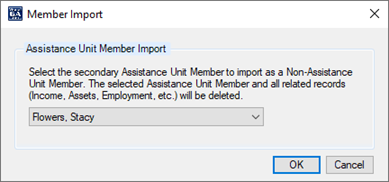 What this feature allows you to do is move Assistance Unit Members to Non-Assistance Unit Members and vice versa. Note that if you are importing an Assistance Unit Member into a Non-Assistance Unit Member, any related records such as Income, Assets, Employment, etc. for that Assistance Unit Member will be deleted.

Appointment Form - Print Selected Checklist Only
With this option selected, only the Checklist items you have selected will print for an appointment. Otherwise all checklist items will display regardless of whether they have been selected for an appointment. This option is found in the Admin Console under 'Form Customization'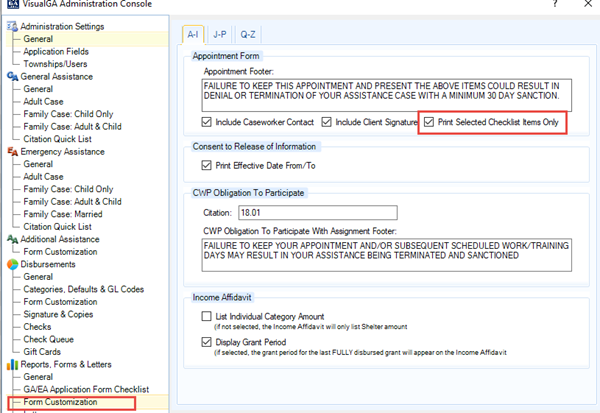 Print Donor Letters within Additional Assistance Grant
You can now print an individual Donor Letter directly from within an Additional Assistance Grant. There is a new Print/Preview menu option named 'Print Donor Letter' which will display the built-in Donor Family Sponsored Letter, Donor Thank You Letter, and any custom Donor letters you have.

Assistance Unit Wish List Field
Currently, the Donor Family Sponsored Letter uses the Assistance Unit 'Notes' field to display within the letter with the intent being that this letter is delivered to the Donor who then reads the Wish List. Since using the notes field for a dual purpose presents a conflict, you now have the option to display a field specifically for a Wish List: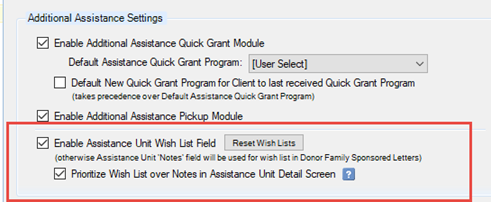 As seen in the screen capture above, you can also reset Assistance Unit wish lists by clicking the designated button. You can use this at the end of your program so that you can start fresh next year. NOTE: If you are currently in the middle of your Christmas Program, do not enable the Assistance Unit Wish List field unless you have yet to enter this years wish lists in the notes field. If this field is not enabled, the system will continue printing the contents of the 'Notes' field in the Donor Family Sponsored Letter as well as the 'Additional Assistance Client Family Member' report.
The option to 'Prioritize Wish List over Notes' simply means the system will initially select the Wish List tab instead of the Notes tab in the Assistance Unit detail screen: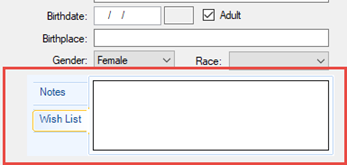 Read more about the full impact on Letters & Reports with the addition of the Wish List field.
Miscellaneous Fixes/Enhancements
- System Activity (Board Statistics) and User Activity Report sorts Additional Assistance and Additional Activity by Program Name/Activity Name respectively. Previously, these were displayed in random order.
-Vendor/Medical Provider export now available in tab or pipe delimited format. Additionally, due to issues that some of you were having with the old csv format with commas in the data, the new csv format delimits each field with double quotes.